Programs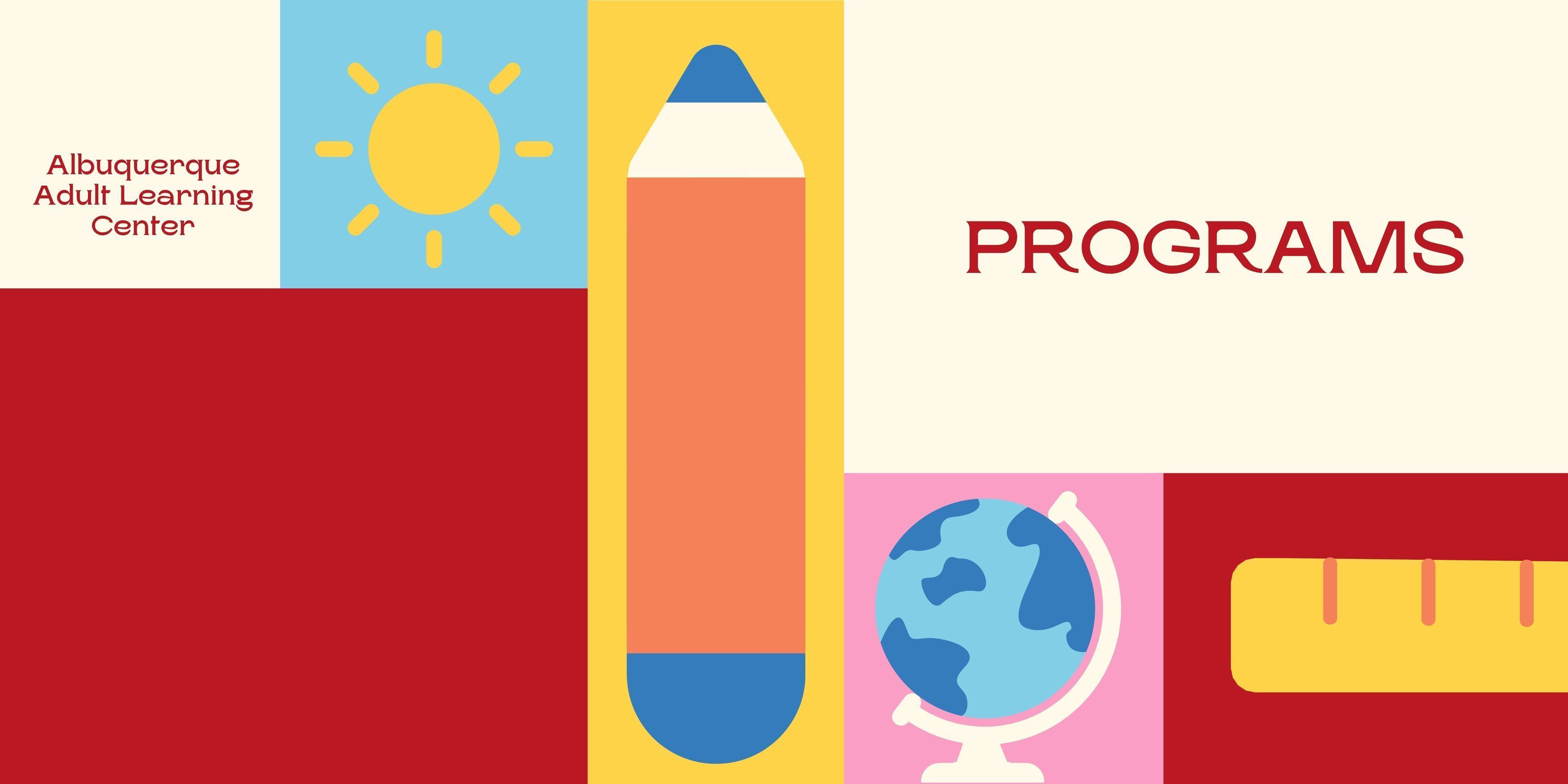 ABQ-ALC's vision is to foster an individual's desire for education, opportunity, and independence.
 

 "My goal is to become a CPA"

Ashley has moved on from CNM to UNM in her pursuit of  a BA in Accounting. 

– Ashley Solano, UNM Undergraduate, ABQ-ALC Board Member-Student Representative

 
Albuquerque Adult Learning Center Programs 
Adult Basic Education (ABE) and Pre-HSE (literacy and Intermediate (pre-HSE) Adult Education)
High School Equivalency (HSE, formerly GED®) preparation
Distance Education (classes with day and evening options available)
Family Literacy 
Literacy Aligned Regional Consortium (ARC)
Volunteer tutors provide one-on-one tutoring on an as-needed basis. 
Classes 
Intensive literacy instruction
Adult basic education (literacy and Intermediate Adult Education (pre-HSE)
High school equivalency instruction (HSE/formerly GED®)
Family Literacy (a three-pronged approach to learning including ABE through HSE for the parent, STEAM for the child (ages 5 and up accepted)
Family Engagement for both parent and child)
Pre-Apprenticeship (Integrated Education and Training)
Post HSE Services (otherwise known as GED) and job support 
Career pathways preparation and transitional assistance
Post-secondary education transition support (i.e. college, certificate programs, apprenticeships, etc.)
Our classes are free to all students! Click here for registration information!
Family Literacy Program

One-on-one reading help for parents of young children and other adults

Our approach is rooted in the commitment to drive a dialogue for modern literacy, which brings diverse literacy providers to the table in a structured communication system resulting in a fresh and unified approach to literacy in our state. We offer both individualized literacy learning plans, taking place over the course of the year, along with on-demand modules which can be accessed at any time based on the specific timing and program need.

Adult Basic Education and High school Equivalency Program

High School Equivalency Classes for Adults and Youth Age 16 +

Albuquerque Adult Learning Center, Inc., (ABQ-ALC), a 501(c)3 established in 2010 (formerly known as Albuquerque GED®, Inc.), is a non-profit organization with over 15 years of experience providing high school equivalency preparation, post-secondary transition assistance, and career preparation assistance. We are focused on serving adults in some of the most under-served communities in the Albuquerque area.

Our student-centered community-based program model helps participants become lifelong learners by instilling the value of education and the importance of literacy for individuals, children, and their families. Overall, our vision is to foster an individual's desire for education, opportunity, and independence.
ABQ-ALC provides FREE adult education services in the International District, Barelas Neighborhood, Downtown, and Westside communities. Our Learning Centers are located at Mesa Verde, John Marshall, South Valley, and South West community centers.

Career Pathways preparation and transition support

Career and College Transition Prep

All students have access to a self-paced Career Pathways Toolkit Google Classroom which provides students an opportunity to research and actualize their dream careers. In addition, we offer field trips to various business and post-secondary programs so that students are aware of local options. Finally, students are able to receive personalized support throughout the year for job and career transitions.

College Admission

ABQ-ALC closely partners with the University of New Mexico's Educational Opportunity Center (EOC) to provide college admissions applications assistance as well as financial aid and scholarship applications assistance to any college in the country. EOC staff will work one-on-one with students to fill out the FAFSA and any other forms necessary for a smooth transition to college.

Certificate Programs

We refer recent graduates to Central New Mexico Community College's Deep Dive Coding boot camps, which are intensive, full-time boot camps that provide a specialized technology certificate to the student upon completion. Students will also be given job placement support throughout the boot camp as well as opportunities for networking and entrepreneurship.

Pre-Apprenticeship Program (pending)

ABQ-ALC also offers an Integrated Education and Training (IET) Pre-Apprenticeship Program for those who are not currently employed in the construction field, including returning citizens, but who wish to pursue a career in this area. This is a collaboration with Associated Builders and Contractors of New Mexico and the Workforce Dislocated Worker Program.